A bucket will remain a bucket, there are not much of features someone can add to a bucket, but at least we can make it a better one, that's what this British company called Colapz did; because Buckets are much of a waste of space when not used, Colapz thought of making collapsible Water Buckets that will only require few inches of space when not used.
COLOURWAVE is a Collapsible Water Bucket that will help you maximize your space, COULOURWAVE has an elastic flexible body, on its own, the bucket stands straight up, and in order to collapse the bucket all you need to do is to push it down while slightly twisting, and then use the elastic strap to wrap around the bottom and keep it down.
COLOURWAVE Collapsible Water Bucket is perfect for use around the home, and even better while camping or traveling since it's so easy to pack.
The bucket can hold up to 2.6 gallons of water but measures just 2.4 inches tall when not in use. The bucket is made from UV resistant recyclable plastic.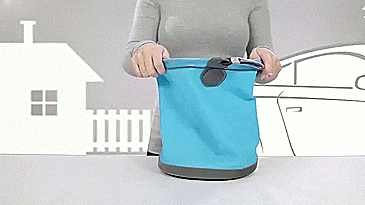 UV resistant
Durable and lightweight
Hanging loop for ease of storage
Usually ships in 24 hours
& Free shipping
Last update was in: December 11, 2017 11:04 pm
UV resistant
Durable and lightweight
Hanging loop for ease of storage