Are You Too Busy to Work Out? That's no longer a problem, FitDesk is your ultimate solution.
The FitDesk is a lightweight folding exercise bike with sliding desk platform where you can rest a laptop or a book, so you can work while you work out.
Using a laptop, reading a magazine or playing a video game while engaging your legs in resistance pedaling has significant health benefits over inactive sitting for long periods, allowing you to spend more time exercising while working. There is no need to limit your exercise to before or after work when you can do both comfortably.
FitDesk offers comfort for all day riding with a beach cruiser style seat, adjustable backrest, and forearm rolling hand rest bar that doesn't only gives support to your arms while typing but will give a massage to your arms by rolling back and forth.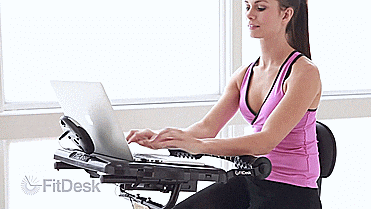 Durable: Built to Last with high quality gear box components for years of reliable operation
Quiet: Twin belt, high velocity flywheel
Unique: Desk features non-slip surface, easy access drawer and massage rollers positioned to make typing while exercising comfortable
Usually ships in 24 hours
& Free shipping
Last update was in: February 1, 2018 3:49 am
Durable: Built to Last with high quality gear box components for years of reliable operation
Quiet: Twin belt, high velocity flywheel
Unique: Desk features non-slip surface, easy access drawer and massage rollers positioned to make typing while exercising comfortable
Digital resistance meter tracks mileage, calories, time, etc...
Adjustable: Seat Back and Extender included allowing for upright and semi-recumbent use