The Wilderness Survival Card is a set of tools and devices that are a "game changer" for somebody in a survival situation.
This survival card is designed by the Special Forces guys at ReadyMan based on reflections of experiences from one of toughest survival schools in the world to make it a gear that could make food within reach in survival situations. The manufacturer claims that this is their most tool-filled survival card they have designed to date. Some of the tools include an arrowhead for hunting, double sided fishing hooks, snare locks for trapping wildlife, sewing needles, saw blades, an awl, and tweezers, basically all sorts of different tools you can pop out at any time to use in case of emergency.
The Readyman wilderness survival card is the size of a credit card, which means you can always have it on hand and have some extremely useful tools to help you survive in an extreme emergency.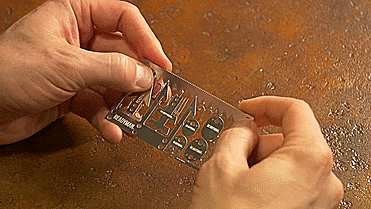 Fishhooks (9 total)
Arrows (Trident, Small Game, Broad-Head)
Snare Locks that double as fishing lures
Awl, Sewing Needles, Tweezers
Saw blades (course and fine blade edges)
Usually ships in 24 hours
& Free shipping
Last update was in: November 29, 2017 4:43 pm
Fishhooks (9 total)
Arrows (Trident, Small Game, Broad-Head)
Snare Locks that double as fishing lures
Awl, Sewing Needles, Tweezers
Saw blades (course and fine blade edges)