If you enjoy sledding each winter, we have good news for you; your sledding experience is about to get upgraded with these wearable Sled Legs.
The idea behind the Sled Legs is very simple; making a simple snow sled wearable!  Instead of carrying your sled with you, you can wear it for easy transportation. With Sled Legs, someone can simply run up the hill, take a few quick steps, slide, and enjoy the ride!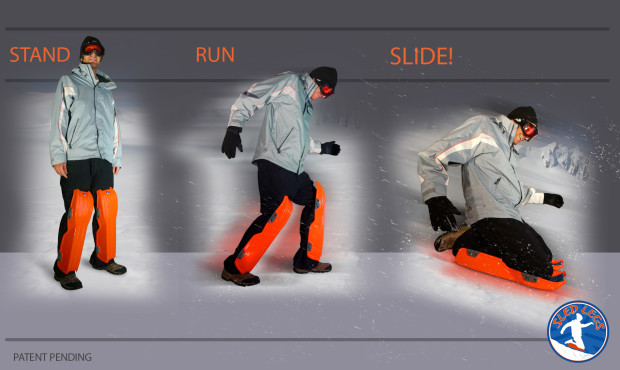 These Snow Sleds consist of a pair of snow sled made of ABS plastic, with outer surfaces with cushioned, rounded interiors and four surface ridges to help guide sleds downhill, Adjustable Knee and Ankle Straps and molded foam pad that provides support and comfort when sledding.
Get ready to enjoy winter sledding again with more control and fun.
Make winter fun again with Sled Legs!
Easy to transport, simple to use
Simplicity of sledding with control of skis
Designed for riders 5' or taller and up to 250lbs (ages 13+)
Made in Canada
Usually ships in 2-3 business days
Last update was in: December 15, 2017 12:59 am
Make winter fun again with Sled Legs!
Easy to transport, simple to use
Simplicity of sledding with control of skis
Designed for riders 5' or taller and up to 250lbs (ages 13+)
Made in Canada